Aunt Purl's Magic Scarf
Many many thanks to the folks that bought my book on the day it was released! I appreciate it more than I am able to express!!
Yesterday in the afternoon I finished one side of the Cable-eight Top. It's 22 inches long and 17 inches wide. I only have one set of knitting needles, so I am using a size 9 instead of the size 11 that the pattern suggested. But, I'm a good dooby and tested my gauge and made adjustments accordingly. The result though is many more cables than the picture shows. It's good practice, right?
To take a cable break and use my Size 9's on a different project, I started
Crazy Aunt Purl's basketweave pattern scarf
. She's right, it is so easy and like magic! I have chunky wool yarn left over from another project that I'm going to use up (stash bustin') and alternate the colors every four pattern repetitions.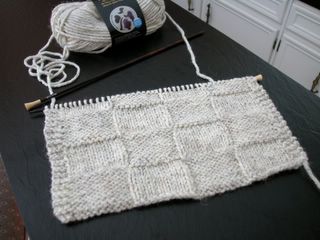 Basketweave Scarf
Basketweave Scarf detail