Free Pattern - Car Cozy
Today was the annual Art Car Parade here in Houston. While doing my usual pre-parade mingling I came across this great craft idea: Knitted Car Cozy! If you are on my Christmas gift list (and you know who you are) don't be surprised to get one of these under the tree this year!
*Click thumbnails for biggy view*
And here are the easy instructions to knit one of your very own!
This is one of the talented knitters that helped to create the cozy in the photo..
Another shot of the car cozy. Note the person admiring the car sporting her fantastic crocheted hat!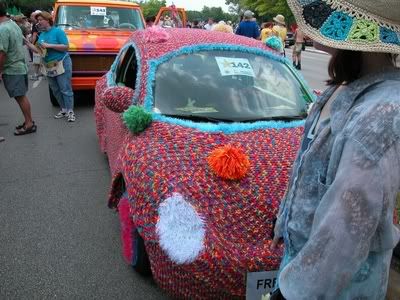 Here I am in front of one of 250 art cars in this year's parade.
Other cars in the parade….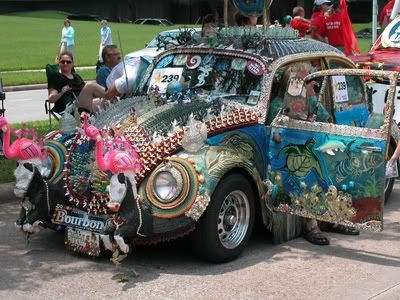 Exhausted from the heat/humidity/beer I make my way back to the not so artzy car that I drive. I gotta start gluing things to my ride so I can be IN the parade next year!