Safari Booty + Cable-eight progress
Here is what my yarn safari produced. At one store I found a great clearance bin and I got these 50g skeins for only $2.50 each! They are 100% wool from Norway and I love the colors. In case you're wondering, I have no idea what I'll be doing with this yarn, but that isn't the point, right? Y'all understand...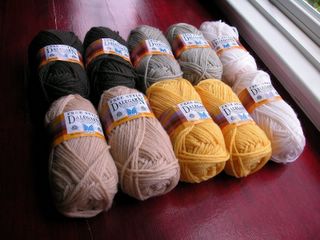 Dalegarn - Free Style
At
Yarns 2 Ewe
I found this great yarn. It is 87% merino wool in three different colors. The three are stitched together side by side. The swatch in the store was incredible (I wish I had photographed it). Now this yarn I do know what I'm going to use it for. For the
2007 Crochet Pattern-a-day Calendar
I'm going to be working up a garment (only in the sketch stage right now) using Louet Topaz in a beautiful royal blue. I'm going to use this Icona to finish the design. It's going to look great together!
Bertagna Filati - Icona
Bertagna Filati - detail
And I finally transferred
Aunt Purl's
Magic Scarf to stitch holders so I could use my set of knitting needles to cast on the front of the Cable-eight Top this morning. I hope my secret pal likes it! I'm using Lion Brand Wool-ease sportweight, double-stranded, in the color "Fisherman".
Cable-eight Top - front