Yarn Safari 2005
*all images clickable*
From the safari diary of The Crochet Dude...
May 24th, 2005
9:25 am. We have been traveling for what seems like days. Karen is weary yet
doing a great job with the transportation. Her Suburu Outback is going through
the dense jungle easily. Makes me glad we didn't bring my Saturn. We would
still be somewhere within the Houston city limits.
9:50 am. We have finally found the first destination of our yarn safari.
Through the thick brush I can barely make out the name of the place,
Twisted Yarns
.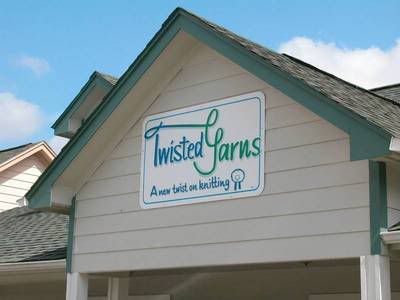 The place looks deserted. My God, are we discovering a sacred place, deserted
centuries ago, where the natives poked and hooked sacrificial virgin wool? Oh,
Karen just told me that they don't open for another 10 minutes so we are going
to the donut shop next door to replenish our depleted rations.
10:05 am. We have entered the store and were met immediately by the strange
natives. They seem friendly but I'm going to stay alert. Those knitting
needles could be dipped in poison. I'm just saying.
10:50 am. Karen has begun to communicate with the natives. I'm impressed. I
can only stay in the background with the goods that I have foraged from the
clearance bin in the back of this Twisted Yarns wilderness.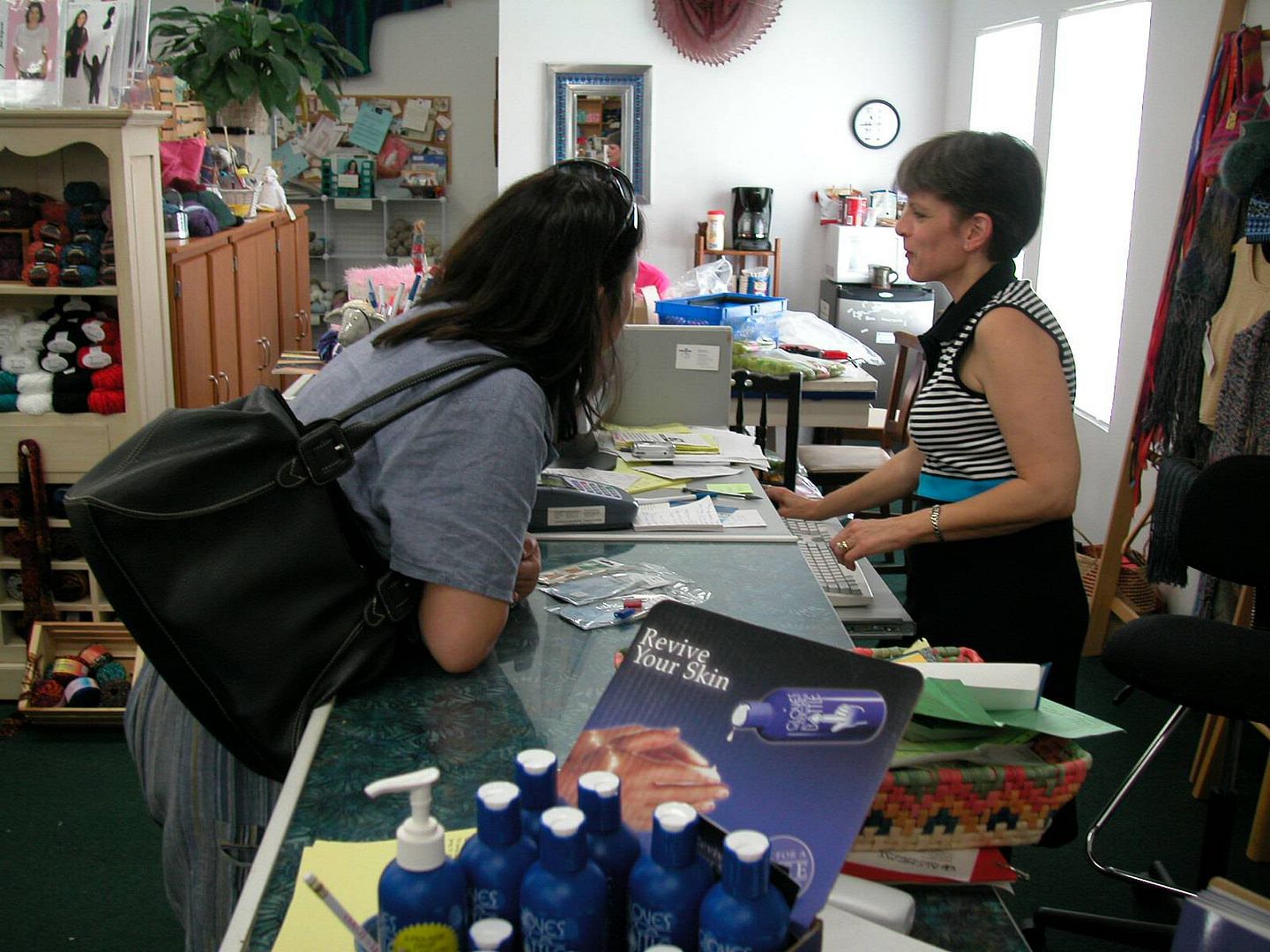 11:23 am. I'm hot, thirsty, hungry. We can't find the Nifty Needle outpost (or whatever it is called). We have pulled in here to see if they have supplies that we can barter for. Little did I know that this would be just the first Hobby Lobby of several that we would encounter.
12:11 pm. I can't go on, I'm starving, literally. Karen has a "feeling" that
we will find help here at
The Hen House
. I'm delirious from the heat and starvation. I want to quit right now and ask Karen to burn my remains and bury them right here in Spring, Texas. Stick a size Q crochet hook in the ground for my headstone and write on it "Here Lies A Happy Hooker". Apparently she hasn't given up on me just yet and is encouraging me to go on.
12:18 pm. I've fallen down. I'm weak with hunger and thirst. Karen is
calling for a search party. I doubt they will make it in time to save me. Tell
Cleo & Chandler that I love them.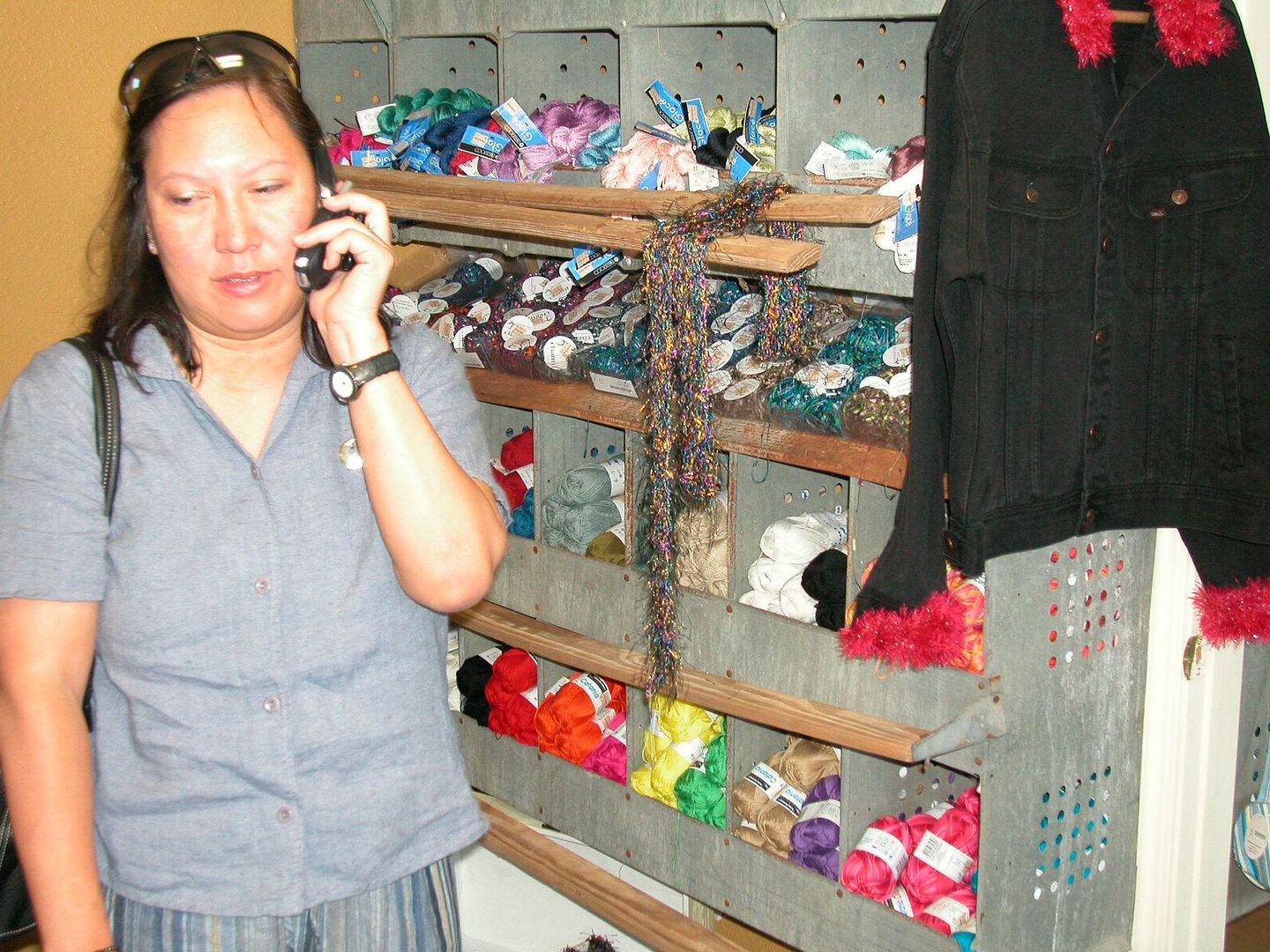 EEK!

12:35 pm. We heard some pleasant whistling and made our way through the
mountains of wool and silk expecting to find a native songbird, but instead came
across this native female. We couldn't communicate because she only spoke with clicks and whistles. Luckily for us she could tell I was wasting away with hunger and she made a map out of bamboo knitting needles and novelty fibers. Yes, she was
definitely pointing us toward a food source.
12:58 pm. The songbirds map has been useful but she didn't give us a direct
route. Apparently she thought we wanted to search another Hobby Lobby and we
have ended up here. Karen doesn't understand the degree of starvation I have
hit. It is just a matter of time. I've begun to hear voices.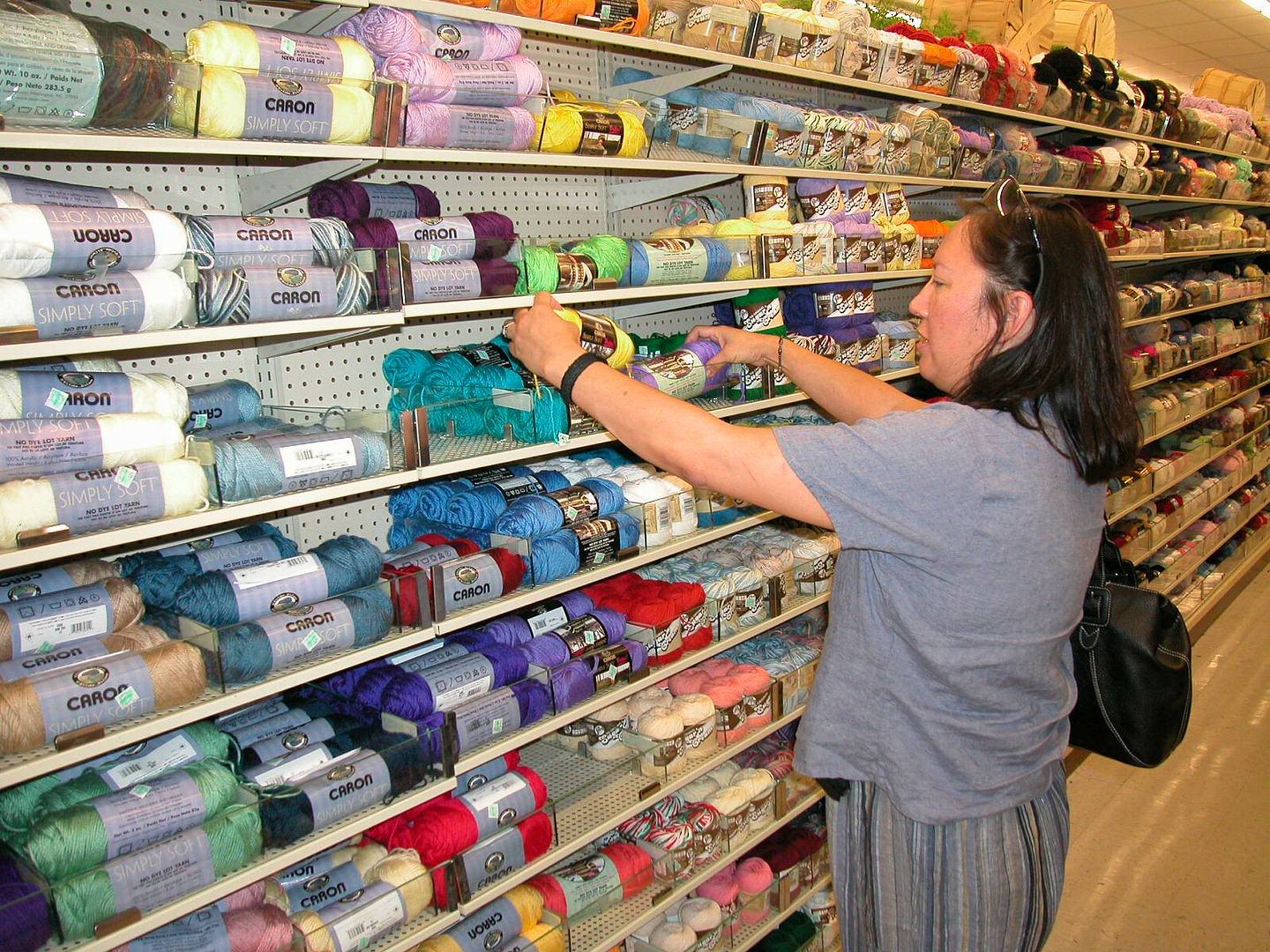 1:30 pm. At last we have found an outpost that promises to provide us with
food. It's a strange place with lots of happy people eating. This odd native
has assured me that he will indeed bring us food.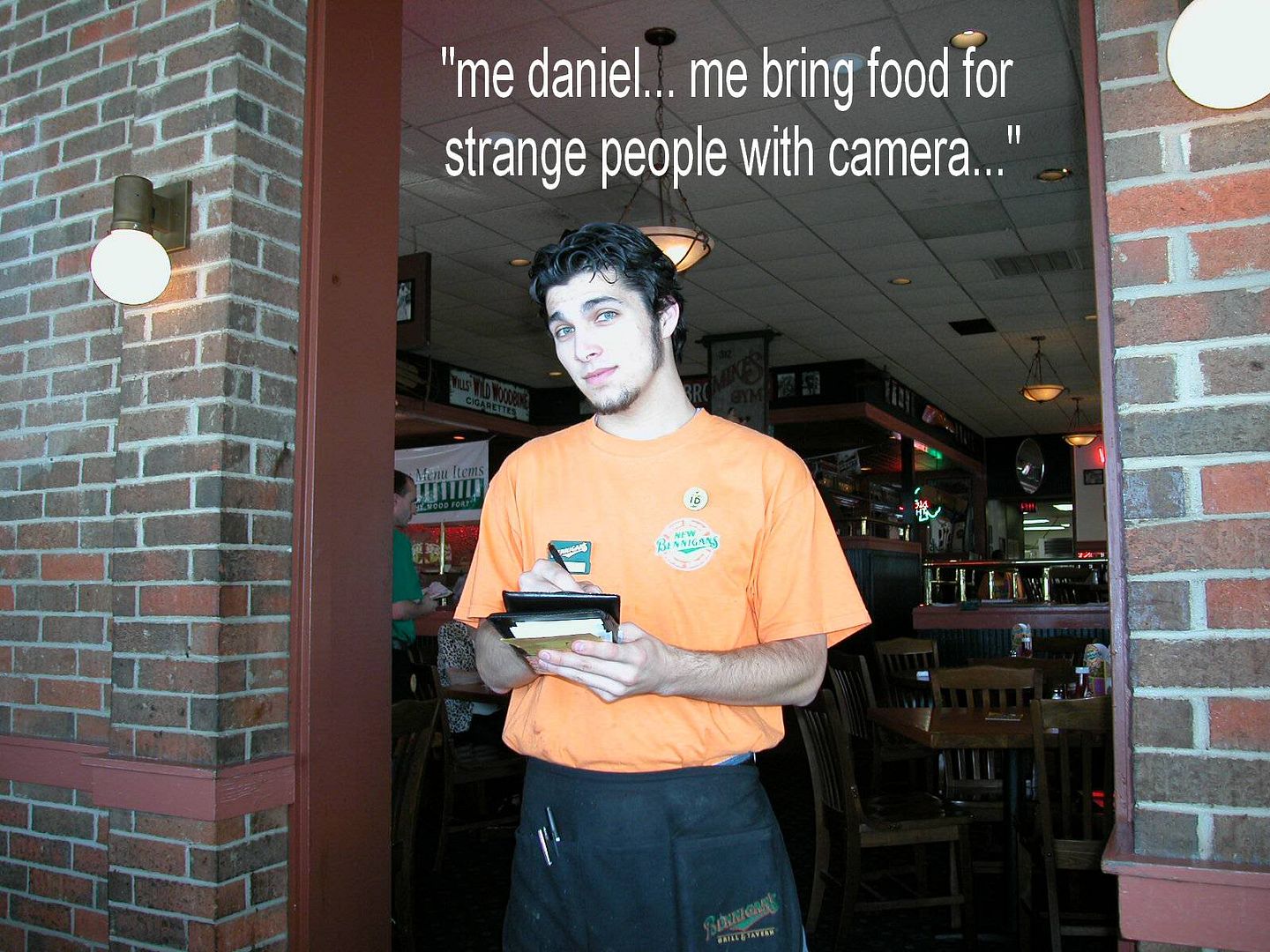 1:58 pm. The food arrived as promised. I don't know what they eat out here in
safari country, but if you look closely I think I see legs dangling from Karen's
meal. I was so hungry I would have eaten most anything that was served. I
feel like Indiana Jones.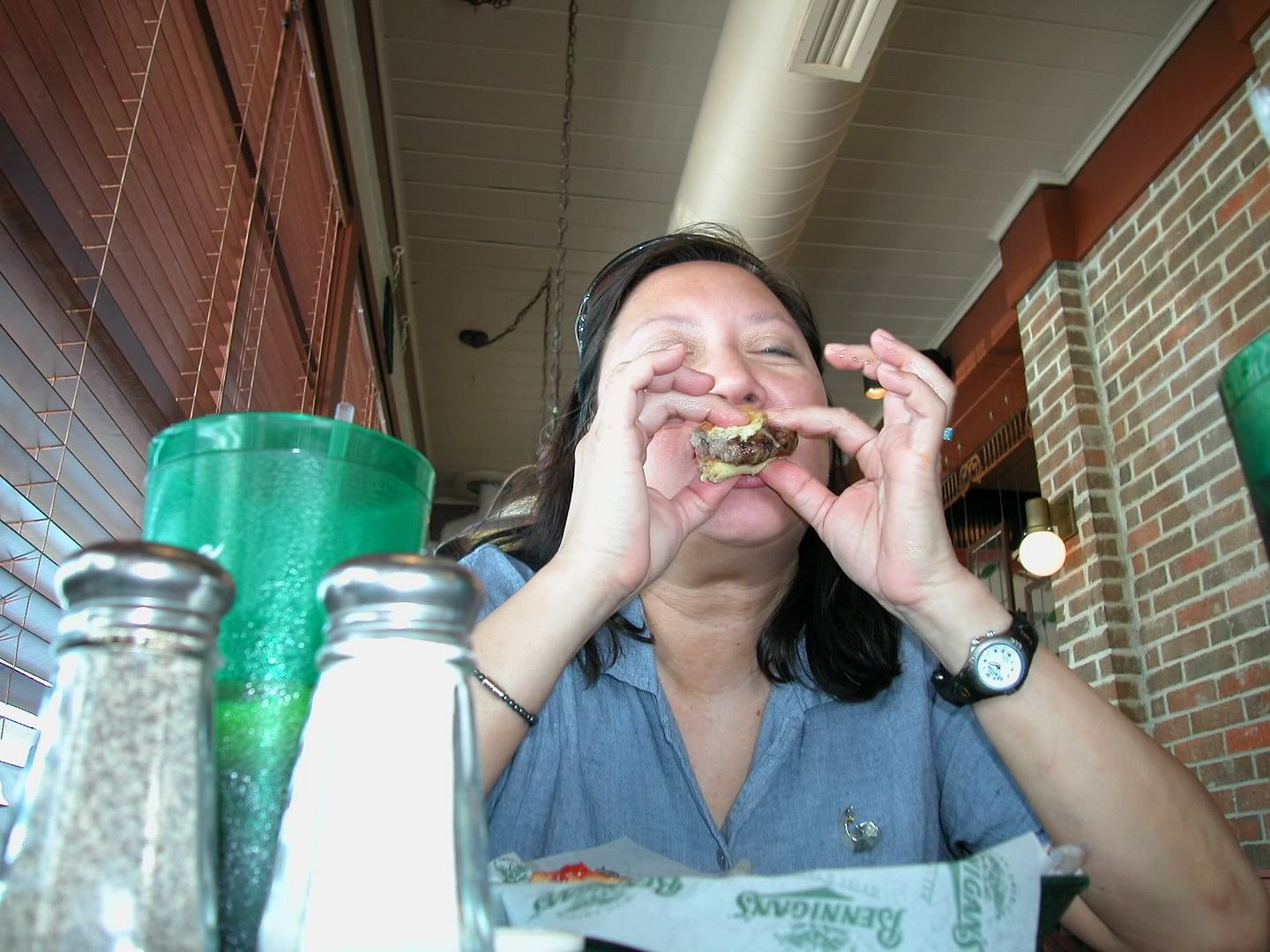 3:22 pm. After eating we managed another stop at a Hobby Lobby, a Half Price
Books, and a Big Lots. The yarn safari is going well with just the one brush
with death by starvation. Traveling through the wilderness it is 100 degrees in
the shade, we are both exhausted and exhilarated from the experience. We have
just returned to civilization and came across this oasis of fibers.
As we entered
Yarns 2 Ewe
we were greeted by these friendly faces. Whew, it is so good to be back. No more searching for food, no more clicking and whistling….
4:00 pm. Yarn Safari 2005 has ended. It was a great time and I hope to do it
again soon. For now I'm just glad to be back in the city where I don't have to
worry about all that wildlife anymore!!