Where's Drew?
My yarn angel blessed me with a copy of the new Interweave Knits crochet issue that came out recently. I have received emails saying that they found my blog because of seeing me mentioned in this magazine! How cool is that? So, after sitting down for lunch with my yarn angel I flipped through the magazine, flipped through it again, then on the third try I found it! It was very cool to see my blog mentioned in such a great magazine.
Your challenge, should you choose to accept it, is to find where The Crochet Dude is mentioned in this magazine.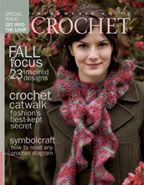 This is the first time I've been included in a major national magazine and I am thrilled. Woo hoo HOO!!